Mark Gumbert
Founder/CEO
---
Mark earned a bachelor's degree in wildlife Management in 1996 and a master's degree in Biology in 2001 from Eastern Kentucky University. In 2004 he formed Copperhead on a foundation of ethical biology and sound scientific methods, working mostly with endangered species. As Copperhead Consulting's founder and Chief Executive Officer, Mark is responsible for developing and strengthening the firm's position in the environmental consulting industry. Allowing his passion for conservation, biological curiosity, and out of the box thinking to guide the company's direction.
This approach has built the reputation that Copperhead has today, and these core beliefs have driven the growth and expansion of additional services. By working closely with the executive team, he promotes the company's long-term vision, strategy, and directs how to best allocate the company's resources for sustainable growth. Under his direction, the company has seen steady growth and now employs nearly 40 employees.
He is a fixed wing pilot and has pioneered a method of tracking bats as they migrate, helped develop an artificial roost for endangered bats and has co-authored numerous scientific papers. In his free time Mark likes spending time with his wife and son, homebrewing craft beer and restoring historical buildings.
Affiliations:
•      Southeastern Bat Diversity Network
•      Kentucky Natural History Society
•      Kentucky Academy of Science
•      The Wildlife Society
•      NASBR
Chris Leftwich
Chief Operating Officer
---
Chris Leftwich holds a B.S. in Environmental Policy from the University of Tulsa and a M.S. in Biology/Applied Ecology from Eastern Kentucky University. Chris joined Copperhead in 2007 and has worked his way through various leadership roles as he concentrates on delivering outstanding leadership throughout the company and providing excellent services to all of Copperhead's clients. In response to his work, Chris was promoted to the executive team as the COO in 2012.
He is responsible for establishing best practices in managing all operations and implementing companywide organizational development strategies that lead to a growth-oriented, high-performance culture. In addition, Chris provides client liaison activities, support to project managers, and guides our business development.
Chris has extensive experience dealing with Section 7 and 10 of the Endangered Species Act which benefits in delivering exceptional project strategy to accomplish client's goals.
In his free time Chris likes to go hunting and fishing.
Vicky West Abrams
Chief Financial Officer
---
Vicky West Abrams obtained her degree at Berea College, earning a Bachelor of Arts Degree in Business Management with an emphasis in Accounting. Vicky joined Copperhead in 2010. Bringing over 28 years of accounting and financing experience to the team, she has been an integral part of Copperhead's growth.
She volunteers at and serves as treasurer for the Little Ones' Consignment Sale in Richmond, KY, the proceeds of which help both women and children ministries.
Vicky, in her free time, likes to cruise the village on her bike, and make breakfast for guests at the Denny House Bed and Breakfast in Paint Lick, KY. Most importantly she enjoys spending time with her two children.
Heather Ballinger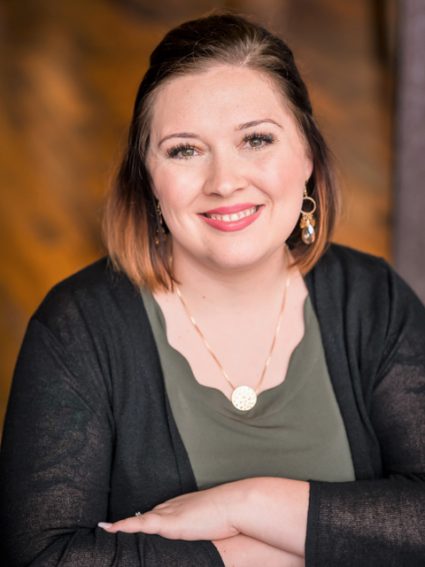 Chief Human Resources Officer
---
Heather Ballinger earned her bachelor's degree in Business Administration with a concentration in Human Resources from Midway College and a Master of Human Resources Degree from the Keller Graduate School of Management. Heather joined Copperhead in January 2020 as the Chief Human Resources Officer, where she focuses on all aspects of Human Resources, including, but not limited to strategic recruiting, employee engagement, and ensuring compliance with human resources laws and regulations.
In her spare time, she enjoys spending time with her husband and two children, reading, and staying abreast on evolving HR related topics.
Memberships:
•      Society of Human Resources Management (SHRM)
•      Bluegrass Society of Human Resources Management (BGSHRM)

Certifications
•      SHRM-CP (SHRM Certified Professional)
---
Piper Roby, PhD
Research Director
---
Piper Roby, PhD, received her B.A. in Biology at Hanover College, and both her undergraduate and master's work were conducted on amphibian surveys with an emphasis on egg and larval stages. She joined Copperhead Environmental Consulting, Inc. in 2005 as a technician while pursuing her M.S. degree at the University of Louisville and joined the full-time staff the following year. At Copperhead, Piper manages large projects, primarily for spring and fall migration, and for several military bases. She is heavily involved in the design, execution, data analysis, and reporting of research projects, often resulting in publication.
She conducts yearly hibernacula counts of endangered bats. Her work experience includes trapping and radio-tracking many mammals large and small, most notably bobcats and mountain lions. However, Piper's passion is researching migrating bats which she parlayed into a PhD at the University of Kentucky.
In her spare time, Piper likes to hang out with her husband and cats, read, hike, and travel.
Certifications:
•      U.S. Fish and Wildlife Service Recovery Permit for Indiana bats
•      Vertical Caving Training –2014 by Kentucky Karst Conservancy, Ken Bailey
Affiliations:
•      Southeastern Bat Diversity Network (SBDN)
•      North American Society for Bat Research Member (NASBR)
•      State bat working groups (KYBWG, TNBWG, ALBWG, NCBWG)
Steve Samoray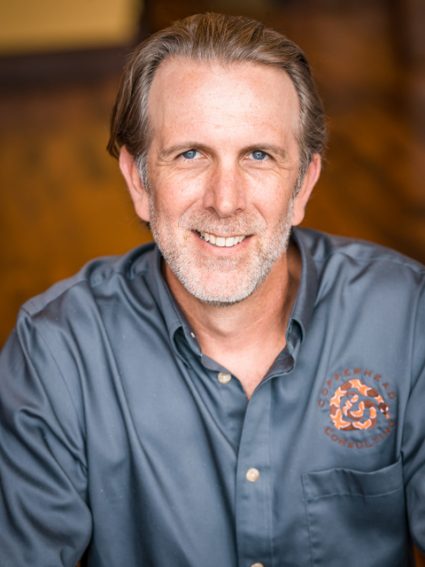 Senior Biologist
---
Steve Samoray received both a B.S. and M.S. in biology from Middle Tennessee State University and joined Copperhead Environmental Consulting, Inc in July of 2011 where he has served as a field biologist and project manager. His undergraduate work focused on amphibian and reptile research. His Master's thesis involved bat acoustic monitoring and habitat use.
He has participated in acoustic studies since 1997 and has manually vetted tens of thousands of call files collected throughout the southeast and Midwest. This experience gave him a unique understanding of which calls can or should be identified and how calls change given habitat characteristics. Mr. Samoray has also been active in the bat research community for many years. He has served as Chair and a board member of the Tennessee Bat Working Group and helps administer the website for both organizations.
Additionally, Mr. Samoray has participated in over 25 aerial telemetry projects focusing on bats and has conducted aerial American Bald Eagle surveys across the Midwest.
Memberships:
•      President SBDN (Southeastern Bat Diversity Network)
•      TNBWG (Tennessee Bat Working Group)
Certifications:
•      Commercial Pilot License (1000+ hrs.)
Price Sewell
Senior Aquatic Biologist
---
Price Sewell obtained a Bachelor of Arts Degree in Environmental Science from Rollins College in 1997 and joined Copperhead in February 2006 as a wildlife biologist. Since that time, he has worked professionally as a wildlife biologist primarily focusing on threatened and endangered (T&E) species. Currently, Price is Copperhead's Aquatics Division lead and Dive Safety Coordinator. Additionally, his experience includes all phases of work from project development and agency coordination through permitting and NEPA compliance. He also has extensive survey expertise in freshwater mussels and fish, bats, small mammals, reptiles, and amphibians.
He is an accomplished wildlife photographer and uses wildlife images to promote stewardship and conservation of the diverse fauna of the eastern United States.
Price enjoys photography and spending his free time with his family.
Memberships:
•      Freshwater Mollusk Conservation Society (FMCS)
•      American Malacological Society (AMS)
•      Southeastern Bat Diversity Network (SBDN)
•      Kentucky Bat Working Group (KYBWG)
Marty Marchaterre
Senior Environmental Planner
---
Marty Marchaterre is an attorney with a law degree from the College of William and Mary and has a Bachelor of Arts Degree in History and Political Science from Williams College. Marty joined Copperhead in December 2017 as a Senior Environmental Planner. He has managed watershed plans, air quality studies, noise analyses, socioeconomic baseline studies, land use analyses, conservation and historic preservation analyses, community impact assessments, Phase I hazardous materials site assessments, biological assessments, wetlands delineations, environmental justice, cumulative impacts, and public involvement activities.
He has over 30 years of environmental, regulatory, and permitting experience, and has overseen the development of NEPA environmental documentation and supporting studies, including more than 80 Environmental Impact Statements (EISs), Environmental Assessments (EAs), and Categorical Exclusions.
Memberships:
•      Lexington Environmental Commission
•      Lexington Community Land Trust
•      Town Branch Trail, Inc.
•      Garrard County Sanitation District

Certifications:
•      District of Columbia Bar Association, Environment, Energy & Natural Resource Section
•      Virginia Bar Association, Environmental Law Section

Drew Vankat
NEPA Specialist/Environmental Planner
---
Drew Vankat joined Copperhead in 2017 as an Environmental Planner. Drew obtained his bachelor's degree in Urban and Environmental Planning from Miami University and Master of Science in Environmental Policy and Planning from University of Michigan. He has 13 years of experience specializing in the National Environmental Policy Act (NEPA) and associated permitting and planning. He successfully manages complex and controversial environmental assessments and environmental impact statements for government and commercial clients, with a focus on land use planning, energy development and transmission.
His NEPA expertise includes overseeing broad-scale cumulative impact analyses, facilitating alternatives development, and implementing innovative approaches to public involvement, among others. He believes strongly in effective communication as a critical tool for project success and has extensive experience working with large interdisciplinary teams, cooperating agencies, and members of resource advisory councils and governing boards.
In his free time Drew enjoys spending time outdoors with his wife and son.
Logan Nutt
Lead Forester
---
Logan joined Copperhead Consulting in 2019 as the lead forester. Logan obtained a B.S. degree in Forestry from the University of Kentucky in 2014. He is responsible for developing and managing projects that address sustainable stewardship of forests and other natural areas throughout the Central Hardwoods region.
He's been involved with a wide range of projects including; developing and implementing specific forest management plans, selecting suitable timber harvest locations, conducting forest inventories, developing and implementing strategies for the management of invasive species, tree planting, planning and performing prescribed fire, reforestation, and extensive data management.
In his spare time, Logan enjoys spending time with his wife and two children.
Affiliations:
•      Society of American Foresters
•      Kentucky Tennessee Chapter Treasurer
•      Association of Consulting Foresters
•      Certified Member
•      USDA-Natural Resources Conservation Service
•      Technical Service Provider
Certifications/Training:
•      Kentucky Licensed Pesticide Applicator
•      DoD Certified Pesticide Applicator
•      Kentucky Certified Burn Boss
•      Type I Wildland Firefighter
•      Heavy Equipment Operator/Boss
Christopher McNees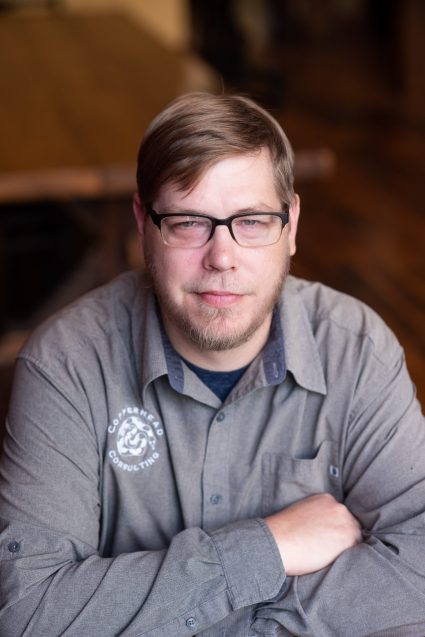 GIS Coordinator
---
Christopher earned an Associate of Science & Arts in Environmental Science Technology, a Bachelor of Science in Environmental Studies, and a Post Baccalaureate Certification in Geographic Information Systems from Eastern Kentucky University. Chris joined the Copperhead family in 2016 as a GIS Analyst.
With extensive experience with the ArcGIS suite of products, Chris has served as our primary GIS lead. From implementing new mobile field data collection programs to spatial analytics, he has a good grasp on the front and back end components needed to stay current with the growing GIS community.
In his spare time Chris enjoys music, fishing, hiking, and expanding his craft beer collection.
Certifications:
•      FAA UAS/UAV remote pilot
Affiliations:
•      Kentucky Association of Mapping Professionals (KAMP)
•      Society of Conservation GIS (SCGIS)
•      GIS Certificate Institute (GISCI)