---
Zachary Baer
Biologist
---
Zachary (Zack) Baer is a wildlife biologist with more than 10 years of experience. Zack obtained his A.S. degree in Wildlife Technology, as well as his B.S. degree in Wildlife and Fisheries Science from The Pennsylvania State University. He first joined Copperhead as a seasonal technician in 2012 and became a full-time employee in 2015. Zack has led hundreds of mist-net surveys and has worked extensively with Indiana, gray, Virginia big-eared, northern long-eared, and little brown bats throughout the eastern United States. Zack is experienced in all bat survey techniques, including radio-telemetry, mist-netting, harp-trapping, acoustic monitoring, and habitat assessments.
He has managed many large-scale, multifaceted, threatened, and endangered species surveys and serves as the primary point of contact for BrandenBarkTM, Copperhead's artificial bark mitigation and habitat enhancement tool.
Zack spends his free time conducting historical research, visiting antique stores, and taking road trips with his wife and son.
Certifications:
•      U.S. Fish and Wildlife Service Recovery Permit for Indiana bats
•      PEC Premier SafeGulf / SafeLandUSA Safety Training
•      National Safety Council DDC Online 9.0 Edition
•      OPSEC, United States Department of Defense
Kevin Bunkowske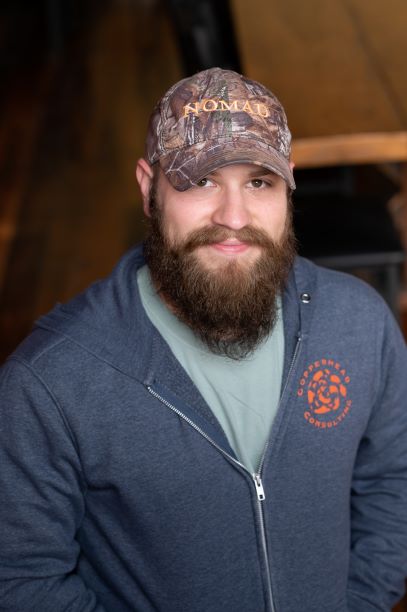 Forester
---
Kevin earned his bachelor's degree in Wildlife Ecology and Conservation with a focus in Habitat Management, and a Minor in Forest Resource Conservation from the University of Florida. He joined Copperhead in July 2019 as a forestry technician and became the full-time forester in September of 2020, where he assists in project management and leading field crews.
In his free time, he enjoys hiking, camping, and generally enjoying the outdoors.
Memberships:
•      The Wildlife Society
•      The Wildlife Federation
•      National Park Conservation Association
Certifications:
•      Wildland Firefighter
•      Herbicide Applicator
Ian Burns
Biologist
---
Ian Burns earned his bachelor's degree in Environmental Studies with a concentration in Fisheries and Wildlife from the California University of Pennsylvania. Ian joined copperhead in May 2016 as a Technician and has worked his way up to Biologist. As a Biologist Ian is primarily involved with Threatened and Endangered wildlife surveys, Pollinator surveys, Wetland delineations, and Brandenbark™ installation. However, he enjoys all aspects of biology and loves any sort of work that gets him outside.
In his spare time Ian enjoys spending time with his friends and family, playing with his beloved dog Charli, and cooking spicy new foods.
Memberships:
•      Northeast Bat Working Group (NEBWG)
•      Midwest Bat Working Group (MWBWG)
•      Ohio Bat Working Group
Certifications:
•      CPR/AED
•      OSHA 10 Hour
Kelsie Eshler
Biologist
---
Kelsie Eshler joined Copperhead as a field technician in the summer of 2017 and became a full-time biologist in 2019. Her work primarily involves mist-netting, radio-tracking, acoustic surveys, and winter hibernacula counts. She has been active in the bat research community for multiple years, both attending and presenting most recently on Indiana bat diet and habitat use.
In 2015, she received her B.A. in Environmental Earth Science with a co-major in Sustainability from Miami University of Ohio. Her undergraduate research was in marine ecology on the island of San Salvador, Bahamas on shark evolution and adaptions.
When she is not working, Kelsie enjoys making pierogis, exploring new places, and caring for Rufus (her taxidermized armadillo) as well as her various plants.
Memberships:
•      Ohio Bat Working Group
Certifications:
•      OSHA 30 Certificate
Malachia Evans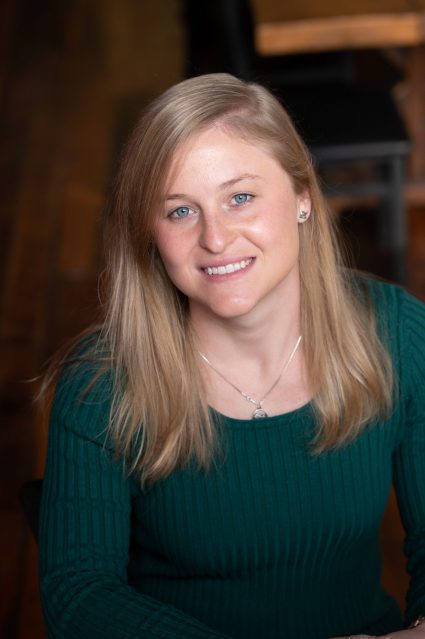 Biologist
---
Malachia Evans earned her A.A.S. in Natural Resources & Wildlife Technology from Garrett College as well as her B.S. in Wildlife & Fisheries Science from West Virginia University all while participating in multiple research projects throughout undergrad. Malachia joined Copperhead in March 2021 bringing years of previous experience in environmental consulting to the team.
Malachia's primary focus throughout her career has consisted threatened and endangered bat surveys including habitat assessments, mist-netting, harp-trapping, acoustic monitoring, portal, hibernacula, radio telemetry, and artificial roost monitoring. In addition to bat related surveys, she is trained in GIS, wetland/stream delineation, forestry practices, environmental permitting, herbicide application, macroinvertebrate, fish, and water sampling, and artificial roost construction and installation.
In her free time, she enjoys a multitude of outdoor activities such as backpacking, photography, and kayaking and as well as spending time with her six pets (a horse, dog, and 4 reptiles). She is also on the leadership board of an exotic reptile rescue.
Memberships:
• Northeast Bat Working Group (NEBWG)
• The Wildlife Society
Certifications:
• OSHA 30 Certificate
• OSHA 10 Hour • PEC Premier SafeGulf / SafeLandUSA Safety Training • Swamp School Wetland Delineation Training • CPR/AED
Taylor Fagin
Biologist
---
Taylor Fagin received his B.A. in Biology from Berea College and M.S. in Biological Sciences from Eastern Illinois University. He is also Kentucky native that joined the Copperhead team in the spring of 2015. Taylor has experience collecting and analyzing surface water quality as well as conducting aquatic multi-taxa surveys including macroinvertebrates, crayfish, fish, herpetofauna, and mussels.
His passion is to better understand the relationship between stream ecology and declining mussel populations while providing mitigation for degraded river systems. Taylor is a key member in the Paint Lick Watershed Conservancy whose goal is to restore and protect aquatic habitat in the Paint Lick River basin. Other expertise of Taylor's includes snails, bats, and scuba diving.
In his spare time, Taylor enjoys gardening, rock climbing, and solidifying his place as the fastest cyclist in Paint Lick.
Gregg Janos
Biologist
---
Gregg began his biology career in 2007 as a student at Eastern Kentucky University where he received his B.S. in Wildlife Management. His undergraduate research focused on the winter habitat use and diet of Eastern Bluebirds. He then completed his M.S. in Biology at Bowling Green State University where he utilized acoustics to study bat habitat use and bat perception of owls. During these years of education, he gained experience as a bat field technician and as a summer camp instructor for the Cincinnati Zoo.
Over the years Gregg has traveled extensively working on and leading mist-net surveys, ground and aerial radio-telemetry, acoustic monitoring/analysis, habitat assessments, and cave surveys for the federally listed Indiana, gray, northern long-eared, Virginia big-eared, and Florida bonneted bat. Additional experience has involved timber stand improvement (TSI) and surveys for eagle nests, macroinvertebrates, fish, and water quality sampling.
In his spare time, he enjoys hiking, camping, biking, (really anything outside), playing board games, and modeling…building model airplanes and cars.
Gregg is a member of several bat working groups and the Kentucky Chapter of The Wildlife Society
Jennifer Parsons
Wetland Scientist
---
Jennifer is a recent graduate from Indiana University with a B.S degree in environmental science with a concentration in wetland ecology and management. She is a Hoosier native who joined Copperhead in the Fall of 2020. Her undergraduate research focused on predator exclusion impact on plant decomposition and soil properties in a tidal salt marsh. She also has experience monitoring streams by measuring discharge and analyzing samples for water quality.
Outside of work, Jennifer enjoys hiking, kayaking and gardening.
Will Seiter
Biologist
---
Born and raised in Northern Kentucky, Will Seiter joined Copperhead in the summer of 2014 after his freshman year of college and has moved up from a seasonal technician to full time biologist. Mr. Seiter received his B.S. in Wildlife Management at Eastern Kentucky University and is currently working towards his commercial pilot's license.
As one of our permitted biologists he has assisted with or conducted a multitude of mist-net surveys across the central and eastern U.S. He has worked extensively at Ft. Knox, KY monitoring the Endangered Indiana Bat maternity colonies that reside there, both from the ground and as a navigator during aerial radio telemetry surveys. In addition to bat work he is a certified Advanced SCUBA diver and has aided in several freshwater mussel surveys and an underwater mapping project. Aside from biological surveys, Mr. Seiter is one of our in-house photographers and videographer.
In his free time Mr. Seiter enjoys rock climbing, caving, camping, and photography.
Memberships:
• Kentucky Bat Working Group
• North East Bat Working Group
• Kentucky Pilots Association
Certifications:
•      PADI Advanced Open Water
Haven Sutton
Executive Assistant
---
Haven Sutton earned her bachelor's degree in Business Management with a concentration in entrepreneurship from Eastern Kentucky University. Haven joined Copperhead in 2020 as the Executive Assistant, where she provides comprehensive support to our CEO. This includes a broad variety of administrative tasks, serving as primary contact for the CEO when he is unavailable, providing event management support, and assisting with special projects.
In her spare time, Haven enjoys playing video games, visiting friends, crocheting, and playing with her dogs Lily and Iris.
Jerry Watson
Staff Accountant
---
Jerry Watson joined Copperhead in June 2020 as a part-time Junior Staff Accountant. Jerry obtained his undergraduate degree at Berea College, earning a Bachelor of Science Degree in Business Administration with an emphasis in accounting. Jerry joined Copperhead in 2020 as our accountant.
In his spare time, he enjoys spending time with his dogs and hiking.
Theresa Wetzel
Biologist
---
Theresa Wetzel joined Copperhead in 2011 as a technician, working her way up to her current position. She received her bachelor's degree in Biology – Environmental from the University of Tennessee at Martin.
When she is not traveling for work, it's likely she's doing more traveling to visit friends and family. She also enjoys spending time outside, dabbling in photography, working in her garden, tending to her ever-growing number of houseplants, and mildly obsessing over her cat Muki (Moo-key).
Memberships:
•      Southeastern Bat Diversity Network
•      Tennessee Bat Working Group
•      Kentucky Bat Working Group
Jim Woolcott
Senior Health and Safety Coordinator
---
Jim holds undergraduate degrees in both Geography (B.A.) and Zoology (B.S.) from the University of Kentucky, and a M.S. in Biology from Tennessee Technological University. Jim joined Copperhead in 2019 and works to ensure the safety and health of Copperhead employees, and ensures our compliance with all client, local, state, and federal health and safety laws and regulations.
He has more than 34 years' experience in occupational safety and health. These years of experience include leading trainings, compliance programs, industrial hygiene sampling and worksite audits.
Jim enjoys exercising, reading, and playing guitar.
Affiliations:
•      American Society of Safety Engineers
•      Phi Kappa Phi Academic Honor Society
Certifications:
•      Certified Safety Professional (CSP) (Ret)
•      Certified Industrial Hygienist (CIH) (Ret)