[vc_row][vc_column width="3/4″][vc_column_text css_animation="top-to-bottom"]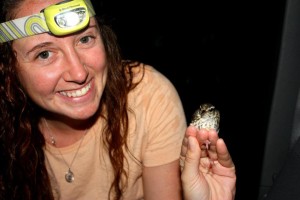 Theresa Wetzel
began her wildlife biology career in 2006. Since then, she has gained experience in surveying a wide variety of taxa including, amphibians, reptiles, plants, birds, bats, and fish.
Hailing from the Volunteer State, she earned her B.S. in Biology with an environmental emphasis at the University of Tennessee at Martin. Her undergraduate work focused in niche partitioning and overlap between wintering red-headed and red-bellied woodpeckers.Continuing with her passion for field biology, she pursued a M.S. in Biology at Eastern Kentucky University studying the tail-wagging movements of eastern phoebes.
Theresa began her time with Copperhead Environmental Consulting, Inc. in 2011 as a technician after meeting and working with part of the crew in Belize while on a Tropical Ecology trip with EKU. Working her way up the ranks, she gained her full time status in 2015.
Theresa has extensive experience in terrestrial ecology and has completed many surveys focusing on eastern bat species. Her broad work with cave and forest bat species has given her the opportunity to handle and identify hundreds of individuals in caves and on the landscape, including the federally listed Indiana bat, northern-long eared bat, gray bat, and Virginia big-eared bat. She has also been active in the bat research community for several years – going to and presenting professional research at annual meetings. Theresa currently serves as the Secretary for the Kentucky Bat Working Group.
When she's not traveling for work, it's likely she's doing more traveling to visit friends and family. She enjoys being outside, photography, laughing, and gardening.[/vc_column_text][/vc_column][vc_column width="1/4″][vc_column_text css_animation="right-to-left"]
Theresa Wetzel
Biologist
859.925.9012
twetzel@copperheadconsulting.com[/vc_column_text][/vc_column][/vc_row]