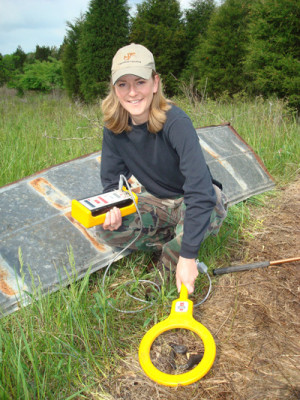 Piper Roby, started with Copperhead Environmental Consulting, Inc. in 2005 as a technician while pursuing her M.S. degree at the University of Louisville and joined the full time staff the following year. Piper received her B.A. in Biology at Hanover College and both her undergraduate and master's work were conducted on amphibian surveys with an emphasis on egg and larval stages. However, her work experience at various federal and state agencies includes trapping and tracking bobcats, coyotes, and mountain lions; small mammal surveys; stream surveys; and constructing and monitoring pit-fall trap arrays used during reptile surveys.
Duties at Copperhead include project management, endangered species surveys with emphasis on bats, and leading multiple research projects on bats. She also has extensive radio-telemetry experience tracking snakes, meso-carnivores, and bats. Piper also has experience in several versions of ArcGIS and previously acted as the GIS technician at Copperhead. Piper is currently pursuing her PhD at the University of Kentucky studying Indiana bat migration.
Additionally, Piper was elected to two terms as the Secretary of the Southeast Bat Biodiversity Network (SBDN) and served from Feb. 2013 – Feb. 2017. In her spare time, Piper likes to read, hike, and travel.