[vc_row][vc_column width="3/4″][vc_column_text css_animation="top-to-bottom"]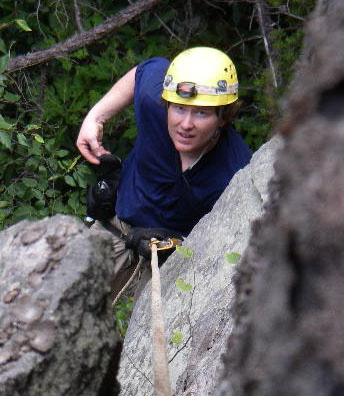 Mark Gumbert
is the founder and president of Copperhead Environmental Consulting, Inc. He is an accomplished naturalist and focused project coordinator. He is experienced in NEPA documentation and designing and implementing large-scale environmental evaluations for projects involving complex environmental regulations, including protected species surveys, environmental assessment, and biological evaluation studies. His work has helped bridge the gap between the private sector and the regulatory agencies and he routinely manages major projects. His expertise includes the identification of bats, small mammals, reptiles, amphibians, and plants.
Mark obtained a B.S. degree in Wildlife Management from Eastern Kentucky University in 1996 and his M.S. in Biology from Eastern in 2001. Since 1993, Mark has been interested in the ecology of bats and has extensive experience with all of the techniques used for their study, including radio telemetry, mist netting, harp trapping, light tagging, and the use of bat detector equipment (AnaBat II) for recording and identifying ultrasonic bat calls. He has a strong background in the identification of trees used by bats and has completed summer netting surveys throughout the eastern United States.
Since 1995, Mark has been involved with numerous projects to survey, collect, and transport all life stages of reptiles and amphibians. He has performed habitat assessments in conjunction with biotic surveys to document seasonal habitat use of amphibians and reptiles. In addition to speaking to special interest groups about reptiles and amphibian, he was the Kentucky coordinator for the North American Amphibian Monitoring Program (NAAMP) from 1997-2000.
Mark enjoys home improvement activities, hunting, travel, and is a pilot in his free time.[/vc_column_text][/vc_column][vc_column width="1/4″][vc_column_text css_animation="right-to-left"]
Mark Gumbert
CEO/Principal Biologist
859.925.9012
mwgumbert@copperheadconsulting.com[/vc_column_text][/vc_column][/vc_row]