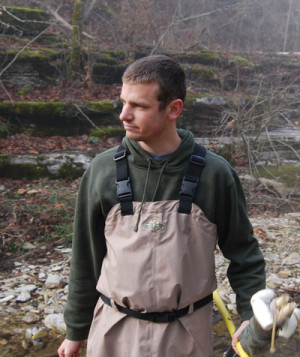 Josh Adams began his career as a field biologist working with federal and state listed flora and fauna species in 2007.  He has worked extensively with Indiana, gray, Virginia big-eared, Rafinesque's big-eared, eastern small-footed, northern long-eared and, little brown bats, as well as Blackside dace throughout the eastern US.
During his career, Mr. Adams has also worked extensively on other listed and non-listed mammals, reptile, amphibian, fish, bird, and plant research, baseline inventories, management plans, and regulatory compliance consultation projects.
Josh has filled supervisory roles on major consultations for both regulatory agencies and industrial clients and has successfully completed formal consultations on several threatened and endangered species related projects. He has directed field efforts on over 400 miles of proposed gathering lines, multiple DOT, and wind facility projects.
Mr. Adams also holds several certifications including, OSHA 40hr, PADI open water diver, and is a licensed commercial pesticide applicator in multiple states.  His extensive management experience with multiple types of projects enables him to ensure clients' needs are met in an efficient manner.