Bats are one of Copperhead Consulting's areas of expertise and we routinely work with chiropterofauna of the eastern U.S. Our biologists are qualified to identify bat species and have received rabies pre-exposure vaccinations. We have extensive experience with all of the techniques used to sample and study bats including radio telemetry, mist netting, harp trapping, light tagging, PIT tagging, and the use of bat detector equipment (AnaBat II and Pettersson) for recording and identifying ultrasonic bat calls.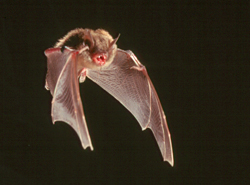 Copperhead also has the capability to collect foraging data and to determine relative home range of individual bats using software such as LOCATE III, ArcMap v3.3 and v9.3, and the Animal Movements and CMAP-CASE ArcGIS extensions.
We have a strong background in the identification of tree species used by bats and have completed numerous summer mist net surveys throughout the eastern United States.
In addition, we conduct winter census surveys for hibernating endangered bats, often under conditions that require technical rope and climbing techniques, e.g., vertical shaft caving.
Photo Gallery:
Projects Related to This Service Below: